Conferences to raise awareness and engage your employees
In an interactive or classic format, easily raise awareness among all your employees on complex topics
What are the two available conference formats?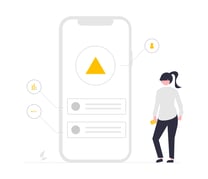 Being an actor and actress
Interactive format
The interactive conference offers a unique opportunity to raise awareness and engage your employees on the issue of inclusion and diversity by offering them the chance to take our self-assessment in real-time (anonymously). In addition, you will have access to a link to the self-assessment throughout the day to distribute internally to those who could not attend the conference, allowing them to raise awareness despite their absence. You will also receive statistics to better understand the culture of your employees on the subject. The conference alternates between moments of presentation and explanation with participants taking the self-assessment.

Classic format
In-person or remote, a 1-hour 20-minute conference during which we will have the opportunity to raise awareness among your employees on the issues of diversity and inclusion based on the specific theme you have chosen from our catalog.
Focus on experiential learning
"To encourage engagement from your teams, it is important to offer them concrete experiences. Immerse them in real-life situations so that they can better understand the obstacles that their colleagues belonging to minorities may face."


Soraya Khadir
Partner, DE&I Expert, International Content Director
Examples of conferences on inclusion and diversity

Preventing sexism and sexual violence in the workplace (classic or interactive format)
Understanding how to prevent sexism and sexual harassment in the workplace. Does fighting against sexism mean that nothing can be said or joked about anymore? Can men be victims of sexism? Can women be sexist?

Acting against sexism, an individual and collective responsibility (classic or interactive format)
How to take concrete action as a manager, witness, or victim? This conference complements the previous one by delving deeply into the mechanisms that hinder the liberation of speech and the postures to adopt to take concrete action. (classic or interactive format).

Understanding inclusion: creating an inclusive work environment is an individual and collective responsibility (classic or interactive format)
Inclusion is a dynamic approach that complements Diversity policies. Beyond what the company can implement in terms of policies, HR and managerial practices, inclusion is a posture that every employee can adopt.

Inclusive management (interactive format)
Diversity in all its forms is a source of richness and performance, provided that it is properly managed. This management of differences in order to bring out the best in them is called Inclusive Management. It creates a framework in which everyone feels recognized and respected with all their specificities and can express their talents and potential. This conference is built around the 5 pillars of inclusive management and is conducted interactively with a self-assessment via the Me&YouToo platform. (interactive format)

Download excerpts from our interactive conferences.

Our conferences are designed to encourage active engagement from our participants by providing opportunities to share their experiences and self-assess through the interactive format of these conferences. Everyone has an important role to play in promoting inclusion and diversity, and we want to create a space where participants can learn from each other and feel inspired to take action.


Frequently asked questions
What do our customers say?
"Sharing with Me&YouToo encourages both introspection and openness to others. Special thanks to Inès Dauvergne."

Léa Léger

Regional Director, La Poste Group

"Me&YouToo's excellent interventions to raise our teams' awareness of inclusion and sexism. I would recommend them 100%."

Morgane Reckel

Diversity, Inclusion and Talent Innovation Leader France chez Ernst & Young LLP

"An innovative and dynamic conference format combining interactivity and self-diagnosis. Perfect for awareness-raising campaigns on the complex subject of discrimination. The high quality of the speakers and the responsiveness of the teams who supported us in our awareness-raising campaigns. Thank you for all your hard work!"

Laëtitia Pinchart

HR and risk prevention – ENEDIS

"Inès is a top speaker! She has a great knowledge and mastery of the subjects she covers in her webinars. Inès is able to anticipate needs and put across messages that are accessible to everyone. She also has a capacity to answer questions asked during the conference with ease and pragmatism."

Corine Athas

CSR advisor Infrabel

"The conference/live self-diagnosis approach enables participants to grasp the concepts very effectively and to question our own reactions, without feeling guilty. Excellent methodology."

Cécile Alhinc-Camy

Head of Diversity and Inclusion at Adecco

"A very nice conference, very informative and appreciated by all our employees."

Sophie Flourens

Head of Retention in disability - Sopra Steria

"A topic which did not seem to be easy to discuss at first, but became obvious after the conference!"

Isabelle Le Dinh

Head of Diversity and Employer Brand/Partnerships at Generali

"Excellent conference on raising awareness of sexism prevention in the workplace."

Marion Baudet

Human Engagement, Diversity & Equal Opportunities Department Bouygues Construction

"We attended a conference run by Inès on gender discrimination. It was a great way of sharing with the teams and we learnt a lot. This kind of event is a great opportunity for the company to show where it stands on the topic. Everyone at Syxperiane was reassured by the conference, and the feedback from our teams was very positive.

Johann Legault

HRD SYXPERIANE